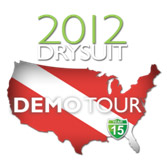 After the incredible success of the Public Safety Dive Team Workshop events in Massachusetts, Pennsylvania, Washington and Ohio, ERDI is very happy to be involved in the upcoming event on September 21, 2012 in Belknap, IL at Mermet Springs and on October 19th at Lake Rawlings in Rawlings, VA. Come join ERDI, DUI and your fellow public safety divers to  pick up a tip or two, and possibly share some knowledge and experience of your own.
To learn more about ERDI™ including the eLearning modules available please visit www.tdisdi.com or call 207.729.4201.
To learn more about the DUI events please visit www.DUIDiveOps.com.
Contanct TDI SDI and EDRI
If you would like more information, please contact:
Tel: 888.778.9073 | 207.729.4201
Email: worldhq@tdisdi.com
Web: www.tdisdi.com
Facebook: www.facebook.com/SDITDI