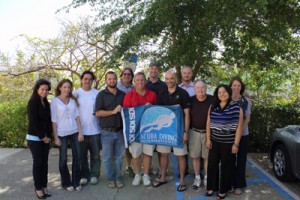 From Left to Right: Erika Richard, Jill Dewey, Yuri Issac, Chip Petersen, Al Anzuoni, Uwe Rath, Andrew Haley, Dev Spradlin, Darren Pace, Gary Jenkins, Amanda Smith and Chelcy Elliot
International Training, parent company of SDI™, TDI™ and ERDI™ held their highest level certification course, Instructor Training Workshop at their world headquarters in Jensen Beach, FL the week of April 23, 2012.
Dennis Pulley, a member of SDI's training department stated, "It was an absolute pleasure working with such a diverse group of divers. We had instructors from Belize, Mexico, Dominican Republic, Boston and the Carolinas come in for our latest Diving Instructor Trainer workshop. Not only did we pack the 7 days with extensive scuba training, we shared stories, laughs and we all gained a greater understanding and respect for the underwater world of diving."
The Instructor Trainer Rating is International Training's highest teaching level and the program focuses on development of evaluation techniques in the classroom, confined water and open water. Presentation ability and skill demonstrations at instructor trainer quality are also assessed throughout the program. Upon successful completion of this course, graduates may teach instructor level courses for all approved SDI™, TDI™ and ERDI™ levels, including conducting the IEC portion of the SDI Open Water SCUBA Diver Instructor Course. The course is intense and challenging but very rewarding. Interested in participating? Anyone wishing to receive further information about future ITW programs should contact the HQ Training Department at training@tdisdi.com.
Please visit https://www.tdisdi.com to learn more about the family of agencies and its worldwide network!

Contact TDI SDI and ERDI
If you would like more information about Instructor Training or to schedule an appointment with TDI, please contact:
TDI
Tel: 888.778.9073 | 207.729.4201
Email: Worldhq@tdisdi.com
Web: https://www.tdisdi.com
Facebook: www.facebook.com/TechnicalDivingInt
https://www.tdisdi.com/wp-content/uploads/2021/05/SDI-ITW.jpg
267
400
admin
https://www.tdisdi.com/wp-content/uploads/2021/10/header-web-live.png
admin
2012-04-30 18:37:58
2012-04-30 18:37:58
Diving Instructor Trainer Workshop at SDI's World Headquarters