THE WORLD OF DIVING HAS PRODUCED many memorable characters that played key roles in the initial development of the sport dating back to the 1930s. The first generation of diving's pioneers included individuals who led exploration, developed early equipment, training programs, publishing, and filmmaking.
A second generation of innovators continued and expanded those roles. This book profiles 20 divers from widely varying backgrounds who have shaped the diving industry through its evolution that continues to this day. It's a unique volume of personal dialogues developed through extensive interviews that takes the reader on a journey of adventure and entertainment never before available.
The conversations in each chapter provide an insight into the oral history of diving that is both exciting and revealing. Lavishly illustrated with photography accompanying the text, the reader is taken inside the fascinating careers of diving's most intriguing personalities.
If the underwater world holds your interest, this book will be an engaging resource of truly "in-depth" information of diving history… directly taken from conversations with those who made it happen.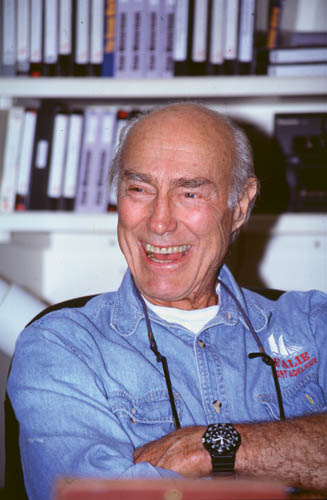 IT HAPPENS THAT I HAD NEVER DIVED WITH Bret Gilliam. I knew his name. His reputation as a preeminently successful entrepreneur in the diving world, a veteran participant and pioneer in almost every facet of the industry, was known to me as it was to almost every one, old and new, who had joined his or her life to the sea and diving.
We met many years ago at one of those raucous, salubrious cocktail receptions by the Boston Sea Rovers. I joined a circle that had formed around a booming, resonant deep voice. When I could get close enough to look around the heads I focused on the storyteller. Not only did he have the full attention of his audience, he had them body and soul.
We became friends. We often shared the stage at film festivals and gatherings. I have a few stories to tell myself. I ultimately tried to precede Bret with the best story I could uncork and have now learned to avoid ever following his act.
When, in 2001, Bret decided to turn his hand again to publishing and editing a dive journal he asked me to contribute an essay to each issue. I was happy to do so and more than pleased to provide the grist for an interview with the unique and very sensible provision that I write freely – any length of my choosing – in response to a series of questions posed by him as my interrogator. The collected interviews that compose the main substance of this book are lengthy, intimate and provide a fascinating autobiography of the interviewee. I believe that this open-ended written interview style is unique in the world of diving journalism.
Many of the persons interviewed were my good friends or colleagues or both. Some I had never met (wreck explorer John Chatterton and filmmaker Greg MacGillivray). At least one, Peter Benchley, had a name familiar internationally. All were major achievers, their currency high and respected among divers. Since mine was one of the early interviews, I must confess that I probably rated the honor by having been in the business so long that I had been labeled a "Pioneer". I'll let it go at that. The bottom line is that I was, indeed, honored to be included.
All of the interviews are a "good read". Peter Benchley was my friend, an intimate of frequent family dinners (we were neighbors and had worked together on television network shows for many years). His interview revealed intimate experiences in his life that were entirely new to me. Ron and Valerie Taylor joined me on that infamous voyage that produced Blue Water, White Death so many years ago. Some of my first forays into big time Hollywood fi lm jobs were with Al Giddings and Chuck Nicklin. The same holds true for Howard and Michele Hall. I had worked with them in their early days, their seminal periods in underwater camera work from which they would immerge as top underwater cameramen in the world and later producers of network series and IMAX productions. I knew why they had reached that preeminence – because they were both enterprising and good – but many of the accounts of adventures and perilous experiences along the way were fresh for me. Bret is a master of the interview craft precisely because of the detailed research he does in advance, as well as his personal relationship with so many of the subjects.
As I scroll down the names of those interviewed my brain neurons, though numbed by excessive use of strong drink, still drag back from yesteryear remembrances of camaraderie and shared experiences from long ago. Bob Ballard, a young researcher, was working on his doctorial degree at Woods Hole when I met him years ago. He was a member of the Boston Sea Rovers, a brotherhood of enthusiastic divers in the Boston area, all dedicated to lobster feasts and riotous good times. His achievements as the programmer for the famous submersible, Alvin, began to impress us but hardly stirred the world outside of the marine science community. Then the discovery of the Titanic projected him into world recognition. The full story of his rise to preeminence could only best be told by his own recollections. The interview format provides that vehicle.
From the beginning, Bret told me, "I made a commitment to giving interviews considerable space and really letting the interviewees tell their stories". One after another the interviews have fulfilled that purpose. The names are legends in their time: Zale Parry, a true lady pioneer who starred in Sea Hunt and dozens of other television and movie roles; Wes Skiles, world renowned cave explorer; the infamous Bev Morgan who changed commercial diving equipment forever; innovative filmmaker Mike deGruy; Bob Hollis and Dick Bonin, pioneers and giants in the manufacture of sport diving equipment; Paul Humann, lawyer turned prolific author/publisher of marine animal identification books; and legendary photographer Ernie Brooks… all those interviewed in the body of this articulate and often delightfully personal book represent two generations of divers who were dynamically part of the sport's evolution and growth.
In speaking of this project Bret said, "I want this book to be a way of preserving an oral history of diving, directly from the mouths of those responsible for shaping the sport from so many different segments". Most of this book's readers will not have personally known the famous men and women whose interviews compose the text. By giving each the time to marshal his or her thoughts, reach back into the experiences and adventures that became the very fabric of their growths, a window into the life of each is opened for the reader. I did know most personally. I still found the words of each a page-turner.
In this book's original draft, one most-wished for interview was missing, that of the author. With a career that spans over 35 years Bret has logged over 17,000 dives. His business activities took him into almost every aspect of the diving world, both sport and commercial. I am acquainted with no one more discerningly qualified to select a representative group of pioneers, many of whom are still "cutting the mustard" with fresh productivity. When I pointed out this conspicuous absence, Bret dismissed including himself. But eventually he caved in and sat for his own interview session so I now consider the volume complete.
For myself, having survived into my eighties (with no thanks to prudence or world-shaking achievement) the very fact that I started diving in the 1930s before mask, fins and snorkels appeared and have miraculously survived to continue diving into my eighties seems to make me a "pioneer". I won't argue.
I am writing this foreword on the liveaboard dive boat, Nai'a, in Fiji waters. When I reach home again Susy, my wife of fifty-six years, will shout, "Never mind that pioneer stuff; get busy right here! The recyclables and garbage have to go out for tomorrow's pick up." With that stirring call, I am back to reality.
– Stan Waterman, December 2006
THE INSPIRATION FOR THIS BOOK CAME FROM Eric Hanauer. Over 15 years ago we both were doing a series of books for Watersport Publishing in San Diego. I was writing weighty tomes on technical diving and Eric had done a travel book on the Red Sea. In 1994 I visited the offices for some editing meetings and found a preliminary layout for a book called, you guessed it, Diving Pioneers. I saw Eric's name on the thing and knew that it would be worth my time. I meant to sit down and peruse it for a few minutes and ended up reading the whole thing in one sitting. I had to tell publisher Ken Loyst that we'd pick up our meeting the next day. After that he learned never to leave anything out that would distract me when I flew in for a visit.
Eric's book was about 250 pages and profiled 22 people in short chapters and a collection of black and white photos. It was heavily biased toward California divers from the 1940s and 1950s era but everyone included was a legitimate "pioneer" and I found it fascinating. It sparked my idea to take off where Eric had stopped and do a series of lengthy interviews with other compelling diving figures. I started the interviews two years later in Deep Tech magazine with Bev Morgan. Up until then, the diving press limited interviews to a few pages of mostly formulaic stock question scripts and rarely did an interview subject reveal much about the person. The response to Morgan's piece was a bit overwhelming and we got swamped by readers asking for more. Others followed in Deep Tech and I expanded the series later in Fathoms magazine. When I sold out in 2005 I made plans to turn those dialogues into a book and widen the content by including more of diving's movers and shakers.
Deciding on the final lineup was tough. Certainly this does not include all who should be in such a book. And that's why I already have plans for a Volume II. But it does represent an interesting cross section of the first two generations of diving with filmmakers, manufacturers, authors, explorers, publishers, photographers, and entrepreneurs. I expanded Eric's original title to include "Innovators" and felt it fit the group pretty well. Some are now retired, one (Peter Benchley) is tragically deceased, and many are still making history. I think you'll find it to be an interesting bunch to hang out with, albeit vicariously from the pages. But it's their story in their own words.
A book like this cannot succeed without the complete cooperation and trust of the folks included as interview subjects. It requires quite a long process to get the initial Q&A over and then a committed excavation of photo archives to resurrect the images necessary to bring the dialogue to life. I think some of the photos we worked with may have been originally taken by Matthew Brady with a massive daguerreotype on a tripod hewn from whole oak. (Is that Stan Waterman in the back row of the Union army at Gettysburg?) No matter whether recorded on old dusty glass plates, 35mm slides, prints, or today's digital files… someone had to go dig for them. And I appreciate the effort. So my first "shout out" of :: acknowledgments 11 thanks goes straight to the characters profiled. It was a pleasure working with each one of you.
I also very much appreciate the stellar contributions of my co-authors Fred Garth, Douglas Seifert, and Michel Gilbert & Danielle Alary who captured the interviews I couldn't squeeze in myself. Thanks especially to Lina Hitchcock who drew the unenviable task of interviewing me. Of course, Eric Hanauer predictably joins the crew and I thank him again for setting the concept.
My longtime collaborator Kim Barry gets all the credit for designing the book and carefully melding images and dialogue into a cohesive and interesting package. Kim, none of the magazines and book projects I've done since 2000 would have been possible without your creative skill and steady hand. And you cook like a deranged gourmet, as well.
Sue Drafahl rounded up the images for Zale Parry when a lot of that material would have been lost. Dr. Gregg Gaylord, Hugh Duncan, and Ned Deloach helped with critical and much needed input on content and style. Eric Riesch at New World Publications was invaluable helping coordinate the project with the printers and liaison all the details of getting this monster from a digital file, to press, and back from Singapore.
Thanks to my wife Gretchen for helping in so many ways and playing hostess and "hotelier" to so many of the interviewees and other various degenerates and swashbucklers who like to drop in and stay awhile. (Please see if Mike deGruy is still in the hot tub.)
I'd also like to thank all the readers of my magazines, articles, and books who encouraged me to put together this special edition of conversations with diving's most interesting people. You guys were right: There wasn't another book like this and it was long overdue. I hope it can help preserve a true "oral history" of diving and let you share in the intimacy and fun of sitting down with some great story-tellers and just letting them rip. Some of these interviews were fueled by coffee. Others were helped along by some fine wines. All were driven by a great combination of camaraderie and a bit of adrenalin generated by recalling pivotal career moments… whether tragic, exciting or just plain fun. But our intent was to bring the reader right into the conversation and encourage you to pull up a chair and listen in.
We hope you enjoy yourself and come away a bit better for the experience. There's a lot of water under the collective keels of the divers you're going to read about. Capturing these stories was a project spanning a decade. We all hope it's a fun ride for you to share.
Even better would be to say hi in person. So don't be shy about introducing yourself to anyone we interviewed if your paths cross at a dive program, a movie screening, or even better, on a dive boat somewhere.
Just explain that you were already introduced… and then buy the first round!
– Bret Gilliam, June 2007
Dick Anderson | Paul Tzimoulis | Peter Gimbel | Ron Church
Sheck Exley | Mike Kevorkian | Frank Scalli | E. R. Cross
Bill Meistrell | John Cronin | Rob Palmer | Jack McKenney
Bill Turbeville | Cliff Simoneau | Larry Smith | Dr. Bob Dill
This book captures some of the diving industries' most interesting characters in their own words. I'm glad that I had the chance to get Peter Benchley's interview done before he passed away in February 2006. But I missed the chance to preserve the life stories of others who should have been part of this project. Their untimely passing was mourned by all who knew them… as well as those who didn't, but benefited from their contributions to diving. To those eternal personalities, this book is dedicated.
In a career spanning 35 years in professional diving, Gilliam has logged more than 17,000 dives in military, commercial, scientific, filming, and technical diving operations. He was one diving's most successful entrepreneurs with investments in publishing, training agencies, manufacturing, resorts, dive vessels, cruise ships, and film support companies. Author of over 600 articles and dozens of formal medical and scientific papers, he has been published worldwide. Bret was a senior editor with Scuba Times, Rodale's Scuba Diving, and Diving Adventure magazines as well as publisher of Deep Tech and founder/publisher of Fathoms. He is the principal author or contributor to 27 books. He was elected to the Explorers Club and the Boston Sea Rovers. Bret lives on an island in Maine now after 25 years running diving operations in the Caribbean, Atlantic and Pacific regions.
www.bretgilliam.com
A professional journalist since 1980, Garth has been published in numerous magazines and newspapers for more than 25 years. From 1986-1998 he served as editor and publisher of Scuba Times magazine and subsequently held editor positions at Deep Tech, Skin Diver, Southern Diver and Dive Report. In 1995, Garth helped create the Internet's first diving e-magazine, Scuba Times Online, which was acquired by Skin Diver in 1999 along with Scuba Times and Deep Tech. In early 2001, Garth and Bret Gilliam launched Fathoms, a magazine dedicated to the serious dive enthusiast. He is a technical diving instructor, rebreather instructor and a diver of more than 30 years. A full-time writer and editor, Garth lives in Pensacola, Florida with his wife, two daughters and bunny, Hoppy. His third novel, Perdido, is scheduled for publication in early 2007.
Lina began diving in 1977 in the Virgin Islands. She joined the staff of Bret Gilliam's V. I. Divers Ltd. that same year and became Operations Manager in 1980. She worked as a fi lm support technician and model, both topside and underwater, with Gilliam and Stephen Frink spanning three decades. Her diving has taken her to the Red Sea, Micronesia, the Solomon Islands, Indonesia, Cocos Island, the Caribbean, Bahamas, Melanesia, and Papua New Guinea on modeling and fi lm work. As a model, she has appeared in scores of published articles and the giant Kodak photo-mural in Grand Central Station. She is a Senior Manager with Veeder-Root CMS in charge of Environmental Compliance programs. She lives in Houston, Texas.
A native Mainer and ironically a non-diver, Kim has been a graphic designer for two decades. She established her design studio, Mayvrik Design, in 2000 and a year later was introduced to Gilliam. She has since been viewing the underwater world vicariously through his many entertaining stories, beautiful imagery and nutty acquaintances. She now splits her time between clients and her recent senior design position in Phoenix, Arizona. Though Gilliam has repeatedly offered to certify her in diving, she stands firm in her conviction that she has been qualified as "certifiable" – as is evident from her recent move across the country from Maine to the desert, where she has traded in her down jacket for an asbestos suit.
Douglas David Seifert began his diving career in 1974 in West Palm Beach, collecting unlucky tropical fish for his many aquariums. In 1994, he turned to writing and published his fi rst feature, on sperm whales, in Ocean Realm, then followed it up with extensive features on whale sharks and manatees. He was hired away by DIVE International in London and has been working for them ever since. He was Editor-in-chief of Oceans Illustrated and continues to write for DIVE magazine and, as Contributing Editor, has published dozens of features. His underwater photographic images have been published in books, newspapers and magazines around the world, including The New York Times, The International Herald-Tribune, Men's Journal, Esquire, Forbes, FYI, Outside, GQ, Reader's Digest, Sports Afi eld, Nature's Best and most of the dive magazines. He calls Jupiter, Florida, home when he is not on boats somewhere hard to fi nd on a map.
Although Eric made his fi rst dives in Chicago's lakes and quarries in 1959, he didn't focus primarily on diving until 15 years later. In the meantime he was a successful swimming coach at Morgan Park High School and at California State University Fullerton. He developed the grab start, which is now used by swimmers worldwide. Hanauer founded the scuba program at Cal State Fullerton and when he moved from coaching into teaching began shooting pictures underwater instead of shooting fi sh. He introduced thousands of students to the underwater world over a 35 year career. In 1977, he broke into a new fi eld with his fi rst article in Skin Diver magazine. Over the past 30 years, his work has been published in magazines, books, posters, and CDs worldwide. He has written guidebooks to the Red Sea and Micronesia, as well as an oral history of diving. Recently Hanauer began shooting underwater video, and his films have been selected for showing in festivals and on the Internet.
Award-winning, lecturers, photography and multimedia producers, Michel and Danielle have been exploring the underwater environment for more than 25 years. Authors of more than 500 articles related to diving, travel and sailing, they are underwater photography columnists for Diver magazine. Their work is sold worldwide by various agencies. They regularly lecture and give workshops at dive shows in North America and abroad. They have received numerous awards including: Canadian Diving Achievement Award (1991), Diver of the Year Award for the Arts (Beneath the Sea, 1995). Silver Diver Award (Antibes World Festival of Underwater Images, 1997). Grand Prize from the Ministry of Tourism of Québec (2002), Our World Underwater Award (Chicago 2007). Danielle is a member of the Women Divers Hall Of Fame. Michel and Danielle chair and participate in various juries at renowned underwater film and photography competitions, including numerous participations in the elite jurors at the World Festival of Underwater images held in Antibes, on the Côte d'Azur.
GRAINY BLACK AND WHITE IMAGES FLICKERED across the length of the auditorium. The audience fell silent as the screen showed an athletically built young man standing on the swaying deck of a small boat. With a deep tan and sun-bleached hair and beard he looked like a sea gypsy. Assisted by a bearded crewman, he placed a navy submarine escape apparatus over his head, put on his nose clip, mask, and fins. And then, without pause, he took a step off the deck of the boat, and into the sea. The images then moved underwater as the young man gleefully swam around the seabed in a lengthy series of maneuvers reminiscent of a solo aerobatic display. Somersaults, loops and rolls. Liberated in a three-dimensional world, he instantly became a fish among the fishes. He was free at last! It was a surreal moment in the sea.
In the front rows of the sold-out auditorium headliner speakers James Cameron, Stan Waterman, Ernie Brooks, John Chatterton, Bret Gilliam and others sat in revered silence. You could hear a pin drop. Seated on the auditorium stage in the silent darkness, an elegant older couple sat holding hands. The gentleman turned his head to the screen slightly and nodded as if to reassure himself of a fact. Could what he was seeing really have been 64 years ago and half a world away? Could it?
What the audience was witnessing was the original footage of what most historians consider the dive that launched scuba diving as we know it. The fact that the actual diver who made it was sitting on the stage in front of them with his wife Lotte, made the whole experience even more surreal.
The step that Austria's Hans Hass took on July 12,1942, at the Greek island of Ari Ronisi, heralded the dawn of recreational and scientifi c scuba diving. A threshold had been crossed. Twenty-seven years later America's Neil Armstrong stepped across another threshold. "One small step for man, a giant leap for mankind." The whole world knows Armstrong's fi rst step. Only a handful of divers know of Hass' fi rst step. That too was also a giant leap for mankind.
Hans Hass' 1942 step was but the first of millions that were to follow, as humans discovered the thrill of scuba diving. Less than a year later Cousteau and Gagnan invented the Aqua-Lung and full French production of the unit would follow within three years. By 1948 the Aqua-Lung was available in the United States and the sport of recreational diving started to develop.
In the years that have followed, numerous sea lovers tried to make a career out their passion Connie Morgan Leslie Leaney and early American diving helmet. Then, as now, it proved to be a diffi cult thing to do. Those that were able to convert the intoxication of this new adventure into a meaningful career became the pioneers of the sport. However, scant attention was given to the historical relevance of what was being invented, discovered, and photographed or filmed. Few participants thought what they were doing would qualify for the designation of "historic." But some of it was.
In 1992 I co-founded the Historical Diving Society of America to help record and preserve some of this early history, partly because the fi rst wave of pioneers were reaching their very senior years. Even with the assistance of recognized scuba historians such as Nick Icorn, Eric Hanauer, Philippe Rousseau, Nyle Monday, Peter Jackson, Kent Rockwell, and Michael Jung, it has proven to be an extremely challenging task. This is partly because, unlike almost every other sport, we divers do not enter a competition with each other to provide a set of winners and losers. Consequently, we do not provide victors who become sports heroes, nor Most Valuable Players that are recognizable to the general public. The way divers generally get any recognition is by overall consistent career accomplishments displayed in a body of work and in service. It is here we find our heroes and MVPs.
In the pages that follow you will get to meet, via interview, a very select group whose work in the underwater realm has elevated them to MVP status. Stan Waterman gives you an introduction to these divers, but let me endorse that they are some of the most interesting creatures swimming in our oceans today. By granting practically unlimited editorial space to each, the interviews have captured not only the history of these careers but also the essence of the subject's character. Each interview provides a personal link in the chain of diving history that connects us all to the birth of our sport, and it also records some of the milestones they created along the way.
Perhaps the most appealing element of this book is that it is easy to imagine that you are actually sitting opposite the divers as they tell their story. For me it felt like I could have been relaxing on the back of a dive boat and watching the sun set listening to someone who has had a measurable infl uence on the overall culture of diving. Very rare air indeed.
Since Hans' early step of 1942, the world has accumulated an increasing archive of imagery and words that record many individual contributions to the culture of diving. But the pristine world that some of these pioneers have seen may no longer be available to their grandchildren. As we now all face the environmental uncertainties of the future, it is important to know from where we have come. The divers interviewed here present some illumination to that historic path which includes the discoveries of their personal journey. Theirs has been a unique experience and I am delighted that this book gives these special characters a chance to share some of their adventures, and enables them leave their indelible fin-prints in the historical sands of time.
Leslie Leaney, President
The Historical Diving Society, USA
Santa Barbara, California
June 2007
THE HISTORICAL DIVING SOCIETY
THE HISTORICAL DIVING SOCIETY OF USA WAS founded in 1992 to record and preserve the history of diving. It is a registered 501 (c) 3 not-for-profi t corporation professionally governed by an elected Board of Directors and administered by appointed officers. The Society is supported by a broad international membership base and the majority of divers interviewed in this book are members. There are no special requirements for membership. The HDS is open to anyone with an interest in diving history. Sponsorship opportunities are also available.
To service the Society's educational mission statement of "Preservation Through Education," the Society publishes the quarterly magazine Historical Diver which is mailed to members in over 40 countries. The Society provides members with a regular supply of international book titles on diving history and hosts an annual Conference that presents papers on diving history. The Society produces four major awards that are presented at the annual Awards Banquet on the same night as the Conference. It exhibits at every major diving show in America and is used as an historical resource by numerous publishers, museums, and television and film producers.
The Society enjoys the support of an Advisory Board currently consisting of the following members who have distinguished themselves in their chosen underwater field.
Bob Barth, Dr. George Bass, Dr. Peter B. Bennett, Dick Bonin, Ernest H. Brooks III, Jim Caldwell, James Cameron, Scott Carpenter, Jean-Michel Cousteau, Henri Delauze (France), Dr. Sylvia Earle, Bernard Eaton (UK), Rodney Fox (Australia), André Galerne, Lad Handelman, Professor Hans Hass (Austria), Lotte Hass (Austria), Dr. Christian J. Lambertsen, Jack Lavanchy (Switzerland), Dick Long, Joseph MacInnis M.D. (Canada), Bob Meistrell, Daniel Mercier (France), J. Thomas Millington, M.D., Bev Morgan, Phil Nuytten (Canada) Torrance Parker, Zale Parry, Surgeon Vice-Admiral Sir John Rawlins (UK), Ross Saxon, Robert Sténuit (Belgium), Ron Taylor (Australia), Valerie Taylor (Australia), and Stan Waterman.
For their service to the Society we recognize our friends: E.R. Cross (1913-2000), Billy Meistrell (1928-2006), and Andreas B. Rechnitzer (1924-2005)
The Society is grateful to our member Bret Gilliam for allowing us to present our mission and history on the pages of this book, which we consider a most valuable contribution to the oral history of diving.
If you would like to join Bret and the many other notable divers listed here who are members, please contact the Society at hds@hds.org or visit us on the web at www.hds.org.
We look forward to sharing the adventures of diving history with you. The Board of Directors The Historical Diving Society, USA Santa Barbara, California.
Art Director: Kim Barry
First Edition: September 2007
ISBN: 978-1-878348-42-5
Copyright:
New World Publications Inc. and Oceans Media Inc.
Cover Photo
Legendary commercial diver
Bev Morgan in hard hat dress, 1973
All rights reserved. No part of this book may be
reproduced without prior written consent
PUBLISHERS
New World Publications Inc.,
1861 Cornell Rd., Jacksonville, FL 32207
(904) 737-6558
www.fishid.com | eric@fishid.com
Oceans Media Inc.,
54 Stonetree Rd., Arrowsic, ME 04530
(207) 442-0998
www.bretgilliam.com | bretgilliam@gmail.com
International Training
1321 SE Decker Rd., Stuart FL 34994
(888) 778-9073
www.tdisdi.com
Portions of these interviews were previously published
Giddings, Morgan, Howard Hall in Deep Tech magazine
Gilliam in Deep Tech, Unterwasser, Dive New Zealand magazines
Brooks in Diver magazine
Chatterton in Diving Adventure magazine
Waterman, Morgan, Nicklin, Benchley, Bonin,
Skiles, Ballard, deGruy, MacGillivray,
Giddings, Howard Hall in Fathoms magazine
I NEVER THOUGHT THAT DIVING WOULD BE MY career. It was always something I loved to do so it was hard to look at going underwater as work. I originally thought I was going to be a schoolteacher. Okay, stop chuckling. With a bit of hindsight, that seems a fairly unrealistic goal as I very much doubt that my independent nature would have fi t well into a regimented and inflexible system that required me to actually adopt a modicum of temperate behavior. When I finished up my work diving for the navy in 1971, I decided to hang out in the Caribbean and see if I could make a little money in diving outside military projects. When my mother's friends would ask her what her son did for a living, she'd always say, "Anything to avoid a real job." She was uniquely blessed with the gift of clarity. And she knew I would never do anything that required me to wear a tie or uncomfortable shoes. I'm still a tee shirt & shorts guy and barefoot is my preferred fashion statement. It worked out pretty well and I got sucked in… for over 35 years. I'm still infused with the same passion.
I survived a shark attack, four cases of bends, two aircraft crashes, a hotel bombing, a shopping list of interesting tropical bites, stings, and abrasions… as well as some strange mushrooms Jimmy Buff ett gave me in Tortola in 1975 that had me pretty damned confused for about a week. Over the years my work has introduced me to some colorful and crazy people… from politicians, movie :: special thanks and television personalities, rock stars, and other assorted characters. And the partying we did back in the Caribbean days fueled by liquor, controlled substances, and semi-religious herbs would probably have euthanized a more highly evolved organism.
Diving also took me away to distant places for long periods of time at sea, on fi lm locations, and on expedition explorations. I'm the ultimate frequent flyer. Every airline counter agent knows me (and the mounds of gear with me) on sight. But eventually months on the road off in the back of beyond for most of the last three decades takes its toll on the mind and body. Not to mention my hairline. I used to have a forehead… now I've got a fivehead.
In the last few years I also came to the harsh reality of losing too many friends, far too early. And it finally caught up with me. I knew I wanted to spend more time with the things that mattered most: close friends, my wife Gretchen, and my adoring dog Pete. Then recently I was diagnosed with a severe case of a disease that has been named after me: "Gilliam's Posterior Vocational Glaucoma." That's when you get up and just can't see your ass going to work that day. I'm sure that many of you have experienced the same symptoms.
So I decided to sell the last of my companies and retire while I was still young enough to enjoy diving in its purity and allow more time for other interests that had been put on the back burner. Like this book and others to follow.
But I would never have gotten my start in business without the initial help of my semi-deranged accountant mentor, Frank Majnerich. The legendary Dave Coston taught me to stay alive in commercial diving and introduced me to the science of breath hold diving and hunting underwater. Dick Bonin, President of Scubapro, took a chance on me by giving my fledgling company the franchise in 1973 and all my downstream successes grew from that initial start. Bill Walker joined me as Vice President of V. I. Divers Ltd. in St. Croix in 1974 and provided the "yin" to my "yang" as he helped me build the company from a tiny cubbyhole on Company Street to the largest diving operation in the Virgin Islands. Mark Shurilla, Kevin Bonnie, Dan Farrar and Lina Gretchen Gilliam 22 23 Hitchcock shared some great times on ships and yachts in far flung anchorages over the years.
I owe a lot to attorney Joel Holt who kept me focused on business, out of police custody (for the most part), and was always there as a friend during the wild days in St. Croix. Joe Giacinto and I met in 1972 at an instructor program. He lived on tiny Marina Cay in the British Virgin Islands and managed that unique resort. We've shared a few tragedies, a few monumental paydays, a lot of time on my yachts, and a lifetime of fun out on the edge. I'm tempted to reflect, "There ought to be a law against having that good a time," but there actually were plenty of laws addressing our misadventures. We just chose to ignore them. As his late brother Mike once told us, "If you're not living on the edge, then you're taking up too much space!"
My photography benefited from the stellar help of my models Lois Leonard, Lina Hitchcock, Lynn Hendrickson, Cathryn Castle Whitman, and my wife Gretchen. You ladies are the best!
Blake Hendrickson introduced me to the modern Mac/Apple computer and changed my life as a writer previously shackled to the confines of a typewriter. Fred Garth and I shared the same passion for making journalism fun and never underestimated the intellect of our readers. He stood shoulder-toshoulder with me when we were threatened by loss of advertising revenue when we dared to print the truth about nitrox, dive computers, technical diving, and other controversial topics. Ethics in diving journalism? What a foreign concept. It worked pretty well for us and we had some fun along the way.
Thanks to visionary dive operators and friends like Dan Ruth, Peter Hughes, Lenny Kolczynski, Avi Klapfer, and Tony Rhodes. The modern liveaboard industry is a better place for all divers because of your vessels. David Sipperly and Miguel Sanchez also were valued dive partners who epitomized professionalism, courage and leadership.
A big part of my legal business has been consulting in litigation and risk management. In most cases this would be about as dull as dinner with a life insurance salesman. But not with characters like Rick Lesser, Michele Bass, Peter Meyer, Dr. Tom Neuman, and our late friend and colleague Bill Turbeville. It's been a good posse to roll with and we certainly kept the wine merchants in business over the years.
My sincerest appreciation to friends Howard & Michele Hall and Stan Waterman for bringing their class acts to my publishing ventures. And a nod to Brian Carney who came to work for me right out of college, later bought TDI/SDI, and proved to be the only person that seems to know how to run one of my companies successfully after I sell them. Go get 'em, kid! I'd like to thank all the great writers and photographers that I've worked with and published over the years.
Music has been a huge part of my life and I've been lucky enough to share times, private concerts, and friendships with some of the defining artists that made music that mattered. Thanks to Jonathan Edwards, Chris Smither, Dave Mallett, Chuck Kruger, and the best damn band out of Texas: Wheatfi eld (Connie Mims Pinkerton, Craig Calvert and Ezra Idlet). Thanks guys, you made our lives better with your extraordinary talent.
A parting wave to Jim Graham, my primary bad influence, and a true friend over more than three decades. Remember: a "good friend" answers your phone call and bails you out of jail after a night of inspired debauchery. But a "true friend" sits handcuff ed next to you in the back seat of the squad car and says, "Shit man, that was one helluva good time!"
But most of all, I'd like to thank you. I would never have enjoyed the success I did if you hadn't been customers of my diving operations, taken training with my certification agencies (TDI & SDI), bought equipment that I manufactured, or welcomed me into your homes by reading my magazines, articles, and books. It's been my deepest honor and privilege and I can't imagine a more meaningful reward than your support.
For over 35 years I got paid far too well to go diving and visit the most exotic places in the world with some of the best people anyone could call friends. Many are profi led in this book. It's a pleasure I cannot adequately express. My sincerest and heartfelt thanks to you all.
– Bret Gilliam, June 2007