Important Guidelines for ALL PSD Teams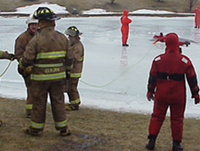 Before we get into the National Fire Protection Association (NFPA) guidelines, a few items need to be clarified and some background provided. First on the list: Emergency Response Diving International (ERDI) is an international agency with ERDI trained teams, instructors and instructor trainers all over the globe, such as Czech Republic, Brazil, Korea, Canada and the US, just to name a few. Why is that important to know? The NFPA guidelines really only apply to the US (and Canada to a lesser extent), yet the guidelines are included in all ERDI standards and materials. Some very key members of ERDI may not even know what the NFPA is, but they understand the value of including them.
Another key point here is that the NFPA 1670 and 1006 guidelines are just that: guidelines. No one is required to follow them, unlike regulations, standards or laws. However, there are certain states within the US that are making the NFPA guidelines required; research will need to be done on an individual Team basis to decipher if your state is among them.
There are two other matters to be considered as well: funding and liability. Certain types of funding within the US will require that your team is NFPA compliant or the training you receive is NFPA compliant prior to authorizing any funding. From a liability standpoint, should an incident happen you may be asked whether your team was compliant with the NFPA guidelines. The answer you don't want to give is "no" – that will leave you and your team with a lot of explaining to do.
From the beginning, ERDI set out to create standards and materials that were fully compliant with any relevant recommendation or guideline; NFPA was one of those. ERDI's thought process for developing our programs this way was this: at the core of all guidelines and regulations is safety. While we may disagree from time to time that they do not fit our situation(s), these standards, guidelines and laws are generally created by a group of individuals with varying levels of expertise all with a common goal – to protect the people who are going to follow their recommendations.
As a final point – which applies mostly to the US – there is no national standard for public safety diving, and this fact alone means that we should follow any standardized guideline that is available through NFPA or OSHA. For other areas of the world this is less significant as their public safety activities already have regulations in place or fall under the police or military to carry out.
Now to the NFPA guidelines. For those not aware NFPA 1670 has a subsection that addresses public safety diving. NFPA 1006 is a revision of 1670 to address new protocols and safe practices. One of the single largest benefits of these guidelines is their inclusive nature. The NFPA breaks their training down into three levels: Awareness, Operations and Technician.
At the awareness level, the participant is made aware of what the people in the field are doing, and this can be accomplished in one of three ways: reading the manual, going through the online portion of the course or attending a seminar put on by a certified ERDI instructor. The benefit of this level of certification is that everybody in the team, including the person that picks up the phone and takes the call, has an understanding of what is happening and is part of the process.
The next level – operations – is a progression of awareness. The participant has completed the requirements of the awareness level and has also completed some field or hands on training. This level is primarily geared towards supervisors or non-divers. It is critical that a supervisor stays on shore and in control of the operation, but it is equally critical that they have a full understanding of what they are asking their team to do. By applying what they have read and the hands on practical they have taught, a supervisor or non-diver can not only be a part of the team, they can be an asset.
The full level of certification is technician; this is a participant that has completed all aspects of theory and practical and has demonstrated that they can successfully perform all duties required of them. The technician completes the team.
ERDI was the first agency to include these three levels for all of our courses so that no matter what course is offered the whole team can participate. It was easy to see the benefit in doing this.
The other specifics of NFPA 1670 and 1006 are better left to you to read and see how they fit into your training and exercises. There are waterman ship and annual proficiency guidelines. The NFPA, like any organization is also updating and adding new guidelines, and they regularly hold meetings. If you are affected by these guidelines then we would encourage you to become part of the process. Guidelines, like standards and laws, need to evolve to keep up with the times and technology. Who better to help with the evolutions than the people that perform those duties every day?
For more information about the NFPA go to www.NFPA.org. For additional information about ERDI and the courses we offer go to https://www.tdisdi.com and locate a facility near you. You can also contact us at 207.729.4201
While visiting the ERDI site at https://www.tdisdi.com, check out the e-learning section and the online ERDI courses and experience the awareness portion of Contaminated Water Ops and the Tender Course.
https://www.tdisdi.com/wp-content/uploads/2021/05/ERDI_37_1.jpg
151
200
admin
https://www.tdisdi.com/wp-content/uploads/2021/10/header-web-live.png
admin
2012-01-13 21:36:10
2021-09-17 15:54:46
NFPA (National Fire Protection Association) Guidelines and What They Mean