Most Iconic Dive Sites
The ocean is a beautiful, vast underwater territory.
Narrowing down the best diving sites is difficult, considering every dive offers something new and unique. Whether it's tropical or frigid water, every diving destination is special in its own way. Diving opens up a whole new world of exploration. It allows you to explore underwater wildlife and incredible sea creatures, creating once-in-a-lifetime experiences that are sure to impress every diver.
From mysterious, dark depths to colorful, vibrant coral reefs, newly-discovered exotic fish and pelagic life, and ancient, rusted shipwrecks, diving brings a deeper appreciation of the world below us. Witness sea turtles pass by with schools of fish following behind. See clownfish peak from in between coral reefs. Watch sharks patrol the waters. Now's the time to set out on some of the world's most beautiful and iconic diving sites. Whether it's swimming in and out of Caribbean reefs or exploring old shipwrecks, there's a diving destination on this list that's perfect for you.
So, whether you're just an amateur diver looking to start a new skill or you're a professional searching for new and exciting locations to explore, here's a list of some of the best places in the world to go diving.
Top 5 Best Dive Sites
We narrowed down the top 5 most iconic dive sites in the world. Let's check them out!
Galapagos Islands, Ecuador
Best for: Experienced, cold-water divers who are looking for real-life interactions with sharks.
Diving in the Galapagos Islands, you're guaranteed to find sizable marine life, especially hammerhead sharks. Here, you'll find some of the most unique creatures in the ocean — from the ultra-rare iguana to manta rays.
Whimsical geologic formations are sure to catch your eye through some of the most astounding diving sites in this area, like El Arco, Isabela Island, and Darwin's Arch. Visit El Arco and Isabela Island to swim with penguins and sea lions, or stop by Darwin's Arch at Darwin Island, where turtles, eagle rays, sea lions, and huge schools of fish frequent the shallows. You may even spot a whale shark, depending on when you go.
If you plan on visiting, aim for anywhere between June to December. So, if swimming with sharks is on your bucket list, the Galapagos Islands are a must-see diving destination!
Raja Ampat, Indonesia
Best for: Marine biology nerds, divers with experience in stronger currents.
Lying close to the center of the Indo-Pacific Coral Triangle, the Raja Ampat island chain showcases possibly the richest marine diversity in the world. Making it a shoo-in on this list of the top five most iconic diving sites.
Raja Ampat, or "Four Kings," are an Indonesian archipelago. The 'four kings' are the four islands: Salawati, Misool, Waigeo, and Batanta. However, Raja Ampat is made up of hundreds of islands, some of which are still uninhabited.
Some of the most notable marine life includes pygmy seahorses, ghost pipefish, reef sharks, wobbegong sharks, walking sharks, turtles, barracuda, Spanish mackerel, crustaceans, cuttlefish, and lively eye-catching coral reefs.
There are two iconic dive sites in this region.
First, Cape Kri — located at the eastern tip of the Dampier Strait — boasts the record for the most fish species spotted in a single dive. Due to the strong current, divers can witness mass gatherings of fish and the occasional sighting of the wobbegong shark.
Second, Misool Island — located further south — shows off stunning sites such as Whale Rock, Nudi Rock, and Boo Windows, complete with soft corals and mangrove forests.
Great Blue Hole, Belize
Best for: Divers of all levels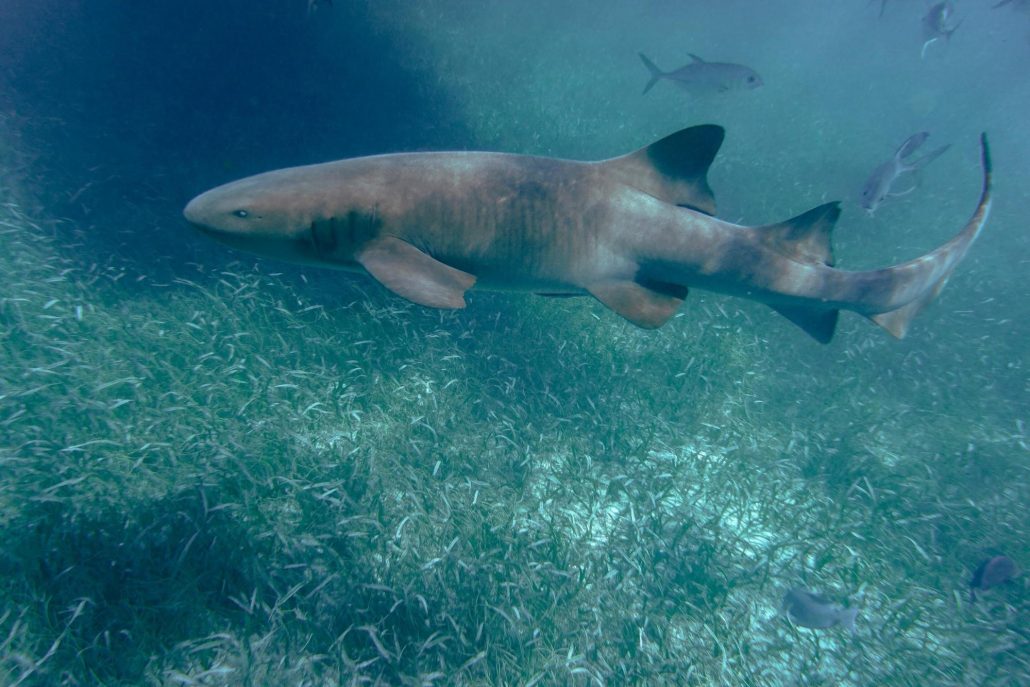 Located between Mexico and Guatemala, the Great Blue Hole in Belize is the perfect destination for exploration. The Great Blue Hole is a massive marine sinkhole – the largest in the world of its kind, and was made famous by explorer Jacques Cousteau, who declared it to be one of the best diving destinations in the world.
With warm, clear, and rich waters, the Great Blue Hole offers excellent conditions for divers of all levels — both beginners and elite. Explore the sinkhole's large depths, which measures 300m in diameter and around 125m deep.
Since the waters are so clear, it's easy to spot wildlife, such as reef sharks, bull sharks, and hammerheads.
SS Thistlegorm, Red Sea, Egypt
Best for: Divers who love exploring shipwrecks, great location for WW2 history buffs.
The Red Sea is one of the most iconic dive destinations in the world — and to no surprise. Here, you'll discover amazing shipwrecks, patrols of sharks, healthy corals, and colorful crowds of schooling fish. You may even spot some dolphins and manatees.
One of the most famous shipwrecks includes the SS Thistlegorm. In April 1940, the British army freighter sank after just 18 months after being launched. The SS Thistlegorm sailed its last voyage on June 2, 1941, loaded with WW2 supplies. Some of the supplies on the extensive inventory include aircraft, armored vehicles, tanks, Jeeps, and Bedford trucks.
As an iconic diving destination, the Red Sea does tick all the possible bucket-list boxes.
Barracuda Point, Sipadan, Malaysia
Best for: For advanced divers who have experience with strong currents.
Barracuda point is one of the best dive sites in the world. Here, you can spot a vast array of marine life, including batfish, nudibranchs, turtles, whitetip sharks, hammerhead sharks, and of course, barracuda.
The diving destination attracts thousands of divers each year to witness the fantastical subaqueous life in this location of the world. For many, Barracuda Point stands as one of the best experiences scuba divers can enjoy.
Since Jacques Cousteau publicized his experiences in the region, the diverse sea life around Sipadan Island is well known by hundreds of divers. Due to its clear waters and unique location, Barracuda point is the best spot on the island to dive.
Conclusion
Whether you are a beginner or an expert, these dive sites offer up some of the most beautiful experiences and sights in the world. From epic shipwrecks to exotic marine life to vibrant coral reefs, these 5 iconic dive destinations are sure to suit every diver's interests.